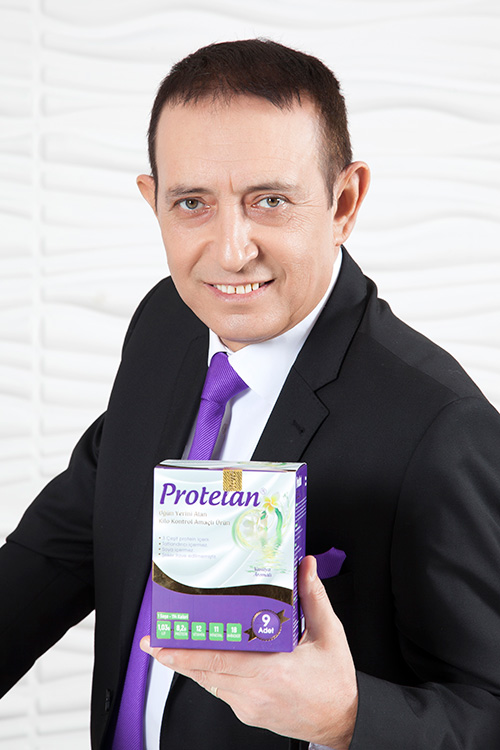 Based on my 33 years of experience in medicine and acupuncture, I feel honoured to introduce PROTELAN (which includes WPC 35, powder milk = caseinate and green peas proteins and it also includes all the vitamins and minerals that you need) that you can use with confidence.
You do not want to look at mirrors.  You do not want to get on the scale.
Based on my years of experience, if the energy you get is less than the energy you spend, then you lose weight.  I do not believe in any powder or tea that contradicts this principle and neither should you!
PROTELAN;
Everyone one of us desires to have an ideal body, don't we? Now it is time to realise this desire.  Now you have PROTELAN; the one and only weight loss product by Dr. Murat Topoğlu.
Protelan consists of milk, whey and green peas proteins, exclusively produced for Dr. Murat Topoğlu.  It is rich in amino acids which are the building blocks of proteins.
Dr. Murat Topoğlu who has had experience with thousands of cases in terms of losing weight during his 32 years of career will help you along with this process with Protelan and special diet provided with it.
If you follow the instructions thoroughly while using Protelan, it will be possible for you to lose weight in a healthy manner.   (Weight loss may differ from one person to another. Both men and women can use it.)
Protelan consists of entirely natural milk and green peas proteins. It does not contain any additives.
Contents: It does not contain any additives or preservatives, GMOs, colouring agents or sweeteners.
No sugar is added.
Protelan is not a drug.  It contains both plant and animal based proteins.  It substitutes a meal which can be consumed having been added into semi-skimmed milk or into a bowl of yoghurt.
The actual goal of the program is to assist you to reach to your ideal weight without losing muscle mass in your body.
Besides, we aim to make sure you do not gain the weight you lost by regulating your dietary habits and by maintaining your new weight.  You need to pay attention to the calories that you consume daily even after you lose weight.  If you don't, you may gain your weight again.
Proteins are the building blocks for the cells in our body.  Our body needs a certain amount of proteins.  They also help balance the liquids inside and outside the cells.  Therefore Protelan prevents losses in the muscle mass thanks to 18 amino acid proteins that it contains.
Protelan and the dietary plan provided with it will help you lose weight in a healthy way.  Since following a diet without starving yourself is something that everybody wants and since Protelan is an intensified natural protein source, it will keep you full for a long time by suppressing your hunger.
Apart from this, each product contains a minimum of 1 grams of Linoleic acid (Omega 6) in compliance with Turkish food codex.  Besides, it is also fortified with all the vitamins and minerals that you need for each meal.
Protelan is produced in compliance with the codex for foods intended for use in energy-restricted diets for weight reduction according to Turkish Food Codex.  It is a supplement that can replace one or more meal(s) as a part of your daily diet.
TURKISH FOOD CODEX, COMMUNIQUE FOR FOODS INTENDED FOR USE ON ENERGY-RESTRICTED DIET
FOR WEIGHT REDUCTION (COMMUNIQUE NO:) 2014/3)
Protelan is designed according to article 5, sub-clause B in this communique. (foods that replace one or more meals in a daily diet)
Extra kilos do not only affect our appearance, they also pose risks for our well-being.  They may cause diabetes, high blood pressure, heart diseases, orthopaedic disorders, gout, chronic fungus and skin diseases, sudden death and so forth.